Located in the heart of downtown Miami, Brickell City Centre is trending on the fashion and hospitality industry in Miami. This mixed-use building includes two residential towers, two office buildings, and the East, Miami Hotel.
Developed by Swire Properties, Inc, the construction included a four-level mall. With a luxury VIP Cinema from CMX, 82 worldwide top luxury retail stores, like Richard Mile, Saks Fith Avenue, Apm Monaco, Chanel, EPL Diamonds, and, 13 recognized restaurants as well as Casa Tua Cucina, Dr. Smood and Pubbelly Sushi.
This place is a VIP experience for users and a big responsibility for engineers and contractors who built this place. At YHCE, we were part of the structural design of some of the retail stores and restaurants located at Brickell City Centre, keep reading to discover the 20 retail stores and restaurants designed by YHCE.
1. La Centrale Restaurante
An Italian restaurant, with 40,000 square feet, and three levels is the largest restaurant space of Brickell City Center and was a culinary experience for customers, with seven food stalls, one gelateria, three bars, a cooking studio, and a wine cellar on the top floor. This restaurant closed in 2019 and was rebranded by Luna Park restaurant that is also offering an exclusive culinary experience.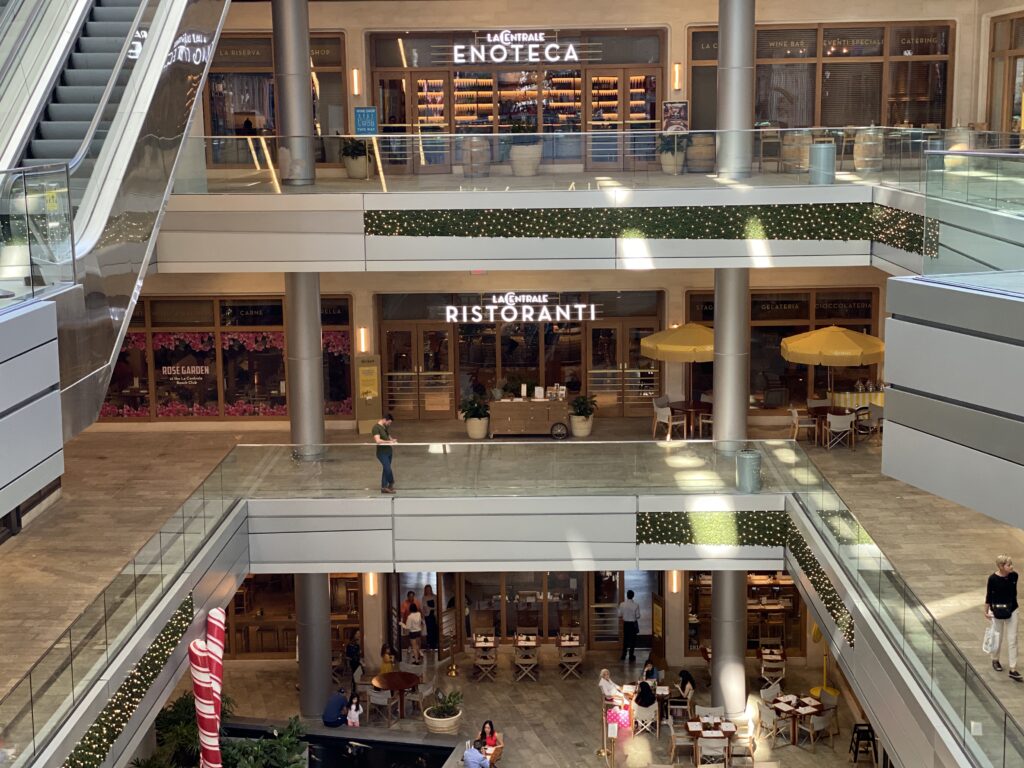 2. Armani at Brickell City Centre
We designed the storefront for the retail store of the well-known Armani Collezioni, one of the seven brands owned by Giorgio Armani. This is not the only Armani Retail Store designed at YHCE, we have been doing the structural design of Armani stores nationwide, including the store located at Lincoln Road.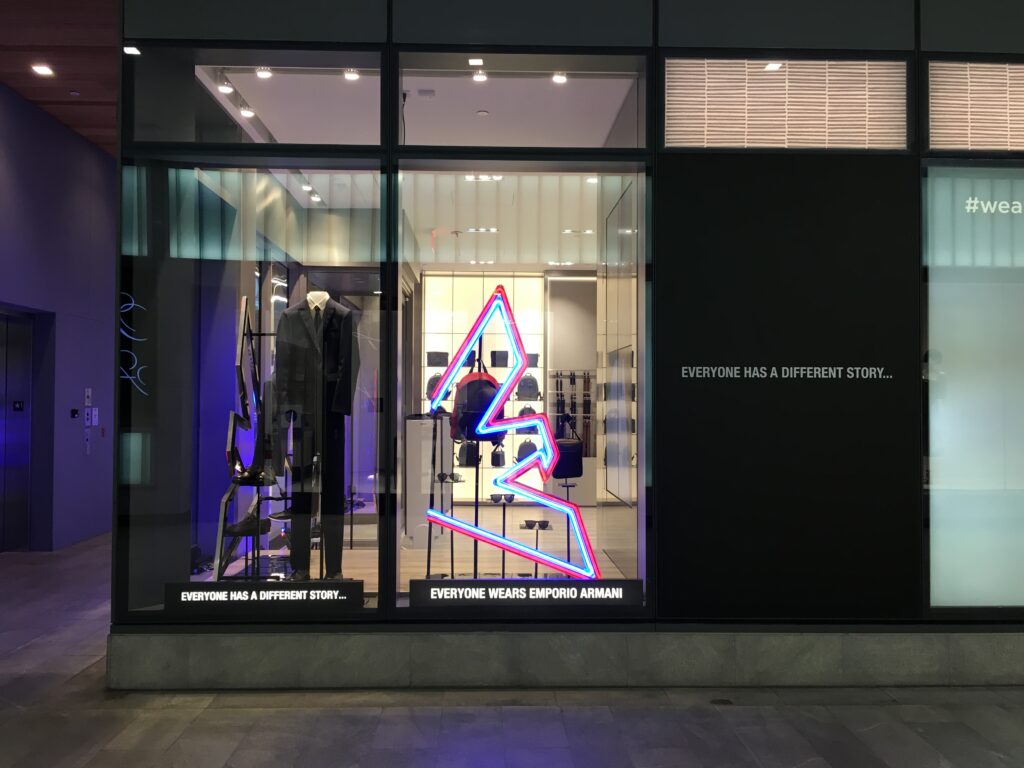 2. Nail Bar.
Owned by Thao Chay and Heng Lin, this experiential nail salon, designed by architects Studio Six Design and the storefront structural design was made by us at YHCE.
3. 120% Lino
The natural luxury clothing brand 120% lino, was another of our storefront structural designs, made alongside with Zamparelli Architectural group.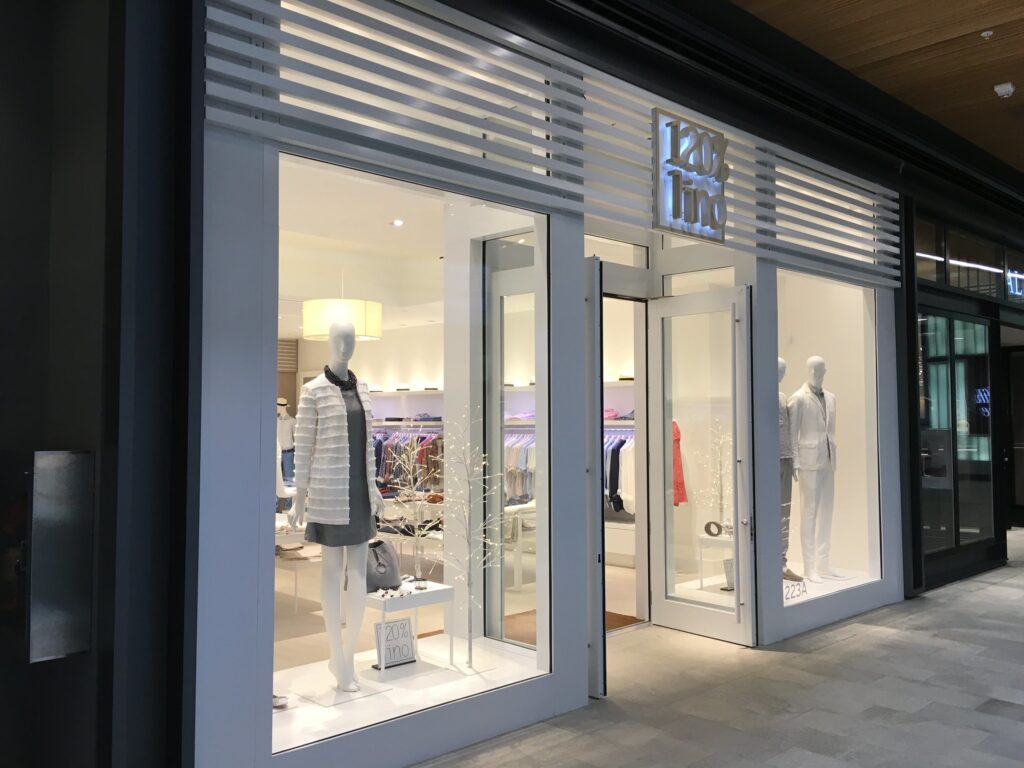 4. Nest CASA
The luxury home decor store, Nest Casa, we designed the front-store of this 18'7″ facade, with the connections between the steel columns and the existing mall ceiling.
5. APM Monaco
The jewelry APM Monaco, with a facade of 23′-2″ of storefront opening, and 12′-0″ of height underside of existing mall bulkhead.
6. Orlebar Brown
The famous England men's beach and swim shorts was also another structural design that we did with architects Zamparelli. The store has 24'2″ storefront opening and four impact windows.
7. In-sight
With an opening of 21′-0″ and 12′-0″ of height, we made the structural design of this facade.
8. Baldinini
We designed the storefront structure for the Italian brand from 1910 owned by Gimmi Baldinini, who has 100 Baldinini stores around the world, specialized in luxury leather handbags and shoes.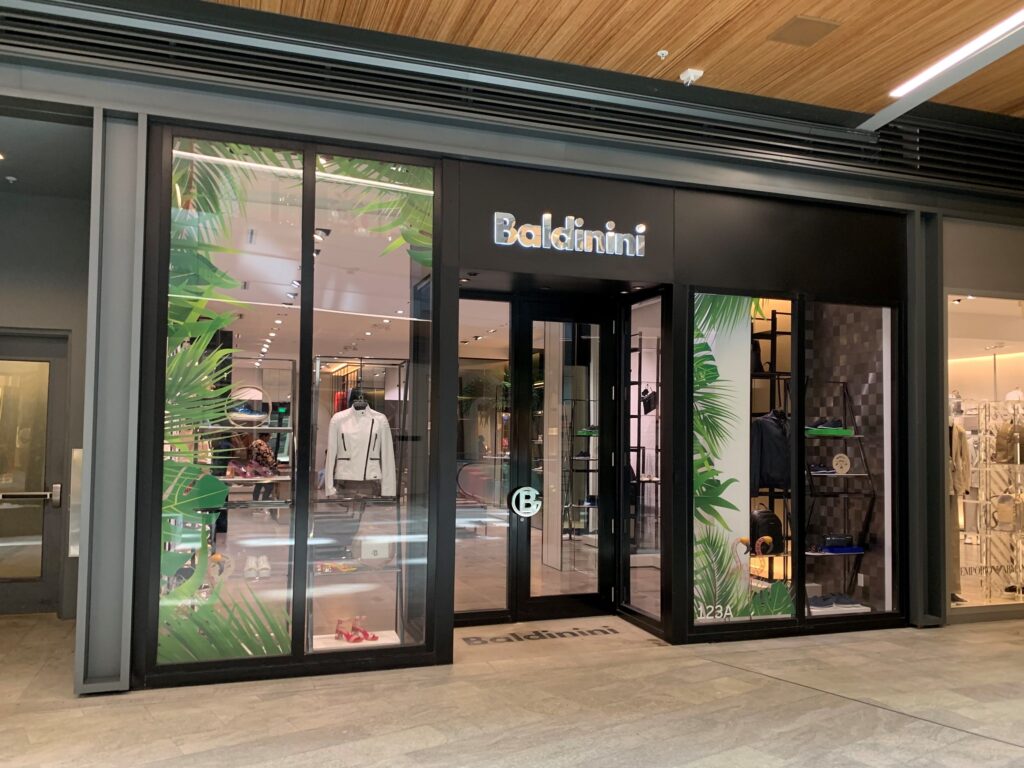 9. LaFayette NY 148
Structural design of the front-store of the New York woman fashion brand created in 1996, this is a sophisticated brand that came up to the Brickell City Centre to open its first store in Miami. Before the opening of this store, LaFayette NY 148 was selling their products here in Miami, on eight different retailers such as Saks Fith Avenue, Bloomingdales, Nordstrom, and Neiman Marcus. With 23′-5″ storefront opening and 9′-6″ heigh to top of store-front, we designed the structural elements for this Zamparelli Architectural Design.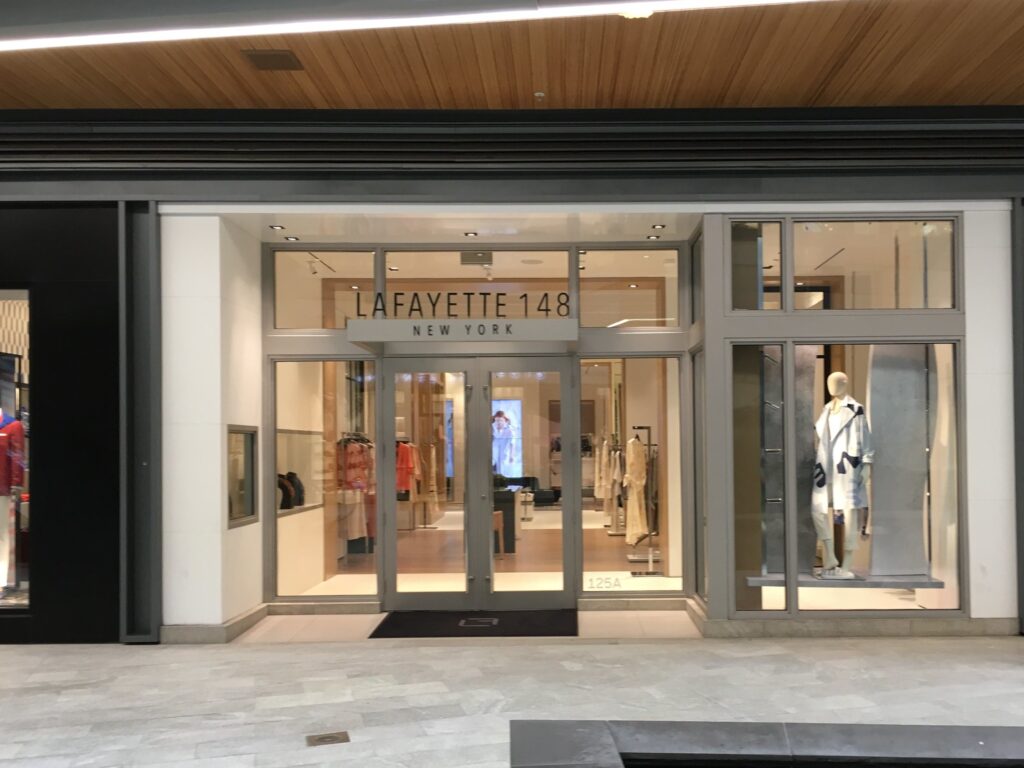 10. IRO at Brickell City Centre
The worldwide brand IRO also opened its first store in Miami, and we worked on this retail project as the structural engineers, our mission was to design the structural elements of this store facade designed by Zamparelli Architectural group.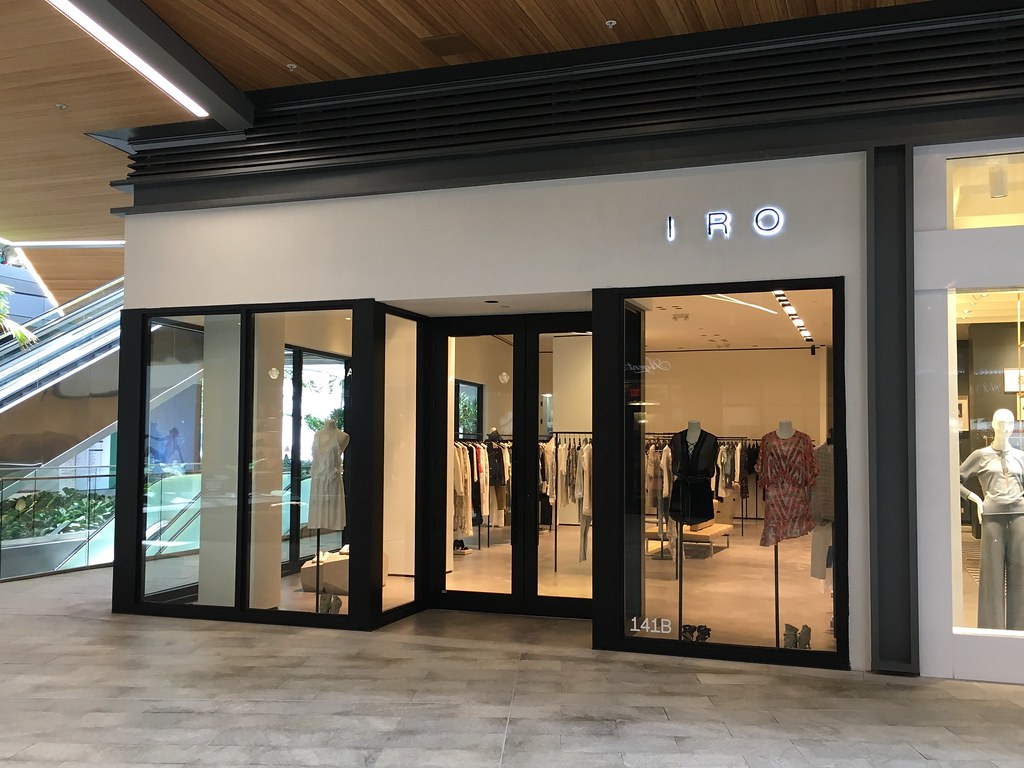 11. Carmen Steffens
With a fresh and modern structure, the Carmen Steffens Flagship Store opened its doors at the Brickell City Centre, and YHCE was the firm of structural engineers in Miami, that designed the front-store for this worldwide well-known store due to its exclusive events and personalized customer service.
12. Illesteva
We made the structural design of this 12′ of height facade, with 3 windows and one sliding door.
12. C' Art at BCC
Roberto Ghiringhelli brought the high-end stationery and gift store to Brickell City Centre, honoring us with the structural design of this classic Italian shop.
13. Rhythm of Grace
14. Dirt
The @dirteatclean restaurant was also one of our front-stores designs at Brickell City Centre. with 60′ of extension x 16′ of elevation
15. Sparis
Additionally, we did the structural design for Sparis, from the founders of the famous spa Hamman Pacha in Paris. With a symmetrical facade composed of four impact windows and a double swinging door with an elevation of 8′ to the top of the beam.
16. Dr. Smood
With 21'9″ of storefront opening, we designed this healthy cafe, we designed the structural elements of this facade, including the impact windows, columns anchored to the top of the mall bulkhead and steel beams.
17. Travelex
Alongside with Creative Lab Organization LLC, we designed the front-store of this foreign exchange company.
18. Stitched
At stitched, we designed the store-front and an upper-level deck.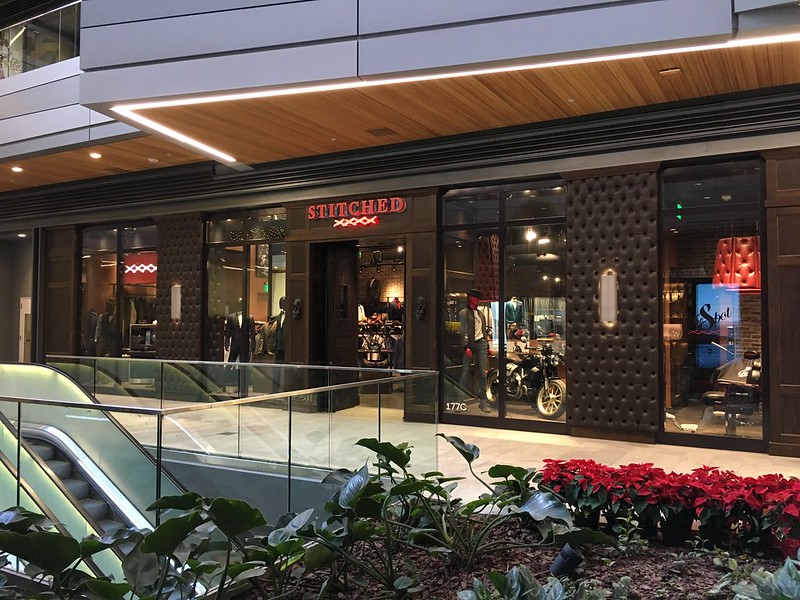 19. EPL Diamond
With Shindler Architects we designed the front-store for the Luxury Jewelry EPL Diamond, with
27'4″ store opening.
20. Iro 2
And finally, we designed the second IRO at Brickell City Centre.